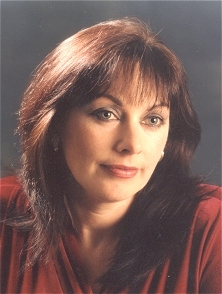 Photo by Ross Studio,Grafton Street
A distant relative of George Bernard Shaw, and President Woodrow Wilson of the United States, Anita Hendy is a lady of many talents.
As well as being an exceptional author, she is a State Registered Nurse, has a Higher Diploma in Theological Studies from Maynooth University, and First class Honours from the Royal Irish Academy of Music in pianoforte studies. Besides books, she writes songs, hymns, prayers, poems and prose. But she counts her greatest achievement being mother of four children, Joy, Heidi, Jed and Shane. Divorced since 1998 Anita lives in County Kildare, Ireland.
Her enchanting books, like pure water, come directly from the source, Anita's own life.
Residing in one of the most breathtaking sceneries in Ireland, with two canals flowing by her door and a forest a few yards down the road. Add to this numerous castles, towers, monasteries, history and folklore at every turn, and what have you?
A talented Irish author that breathes this precious heritage into her soul. Then, from her storehouse of memories, her listening and observations, not to mention her incredible imagination, Anita recreates this Irish heritage, preserving it for you and yours and generations to come.
A keen photographer and walker, her photographs are recreated by artists, working full time for her, into beautiful oil paintings and black and white illustrations.
The result of all this hard work is a series of unique classic hardback books to treasure.
What makes these books different than other children's books on the market today?
The magic does not end with the story. For parents can bring their children to Ireland to visit the places in the stories. And by doing this together, history, travel, and education become fun, interesting, and creates memories for any family to cherish for a lifetime.
What drives Anita's unique creative work, is, in her own words:
"My hope is that children will associate magic with real life and not illusions, That they will search for happiness, not only in their surroundings, but in the people they love. That this will nourish a protective caring attitude within their hearts and their joy, based on reality, will never end. For it will carry on into adulthood and they will find peace."